Once again its been a bit mixed weather wise in Yorkshire but we did have a weeks heatwave in July. Lawns and linens are great for the warmer weather and there are some fabulous linens on IG but I am really struggling with the casual/scruffy/unkempt look. Some people can really carry it off though and as I knew I had some fabric in the stash it was time to release it. I had some that was bought on line and although it was gorgeous it wasn't suitable for what I wanted to make at the time. That's one advantage of buying local, you can see what you are buying, feel it and know its suitable and only buy the quantity you need.
I had two patterns in mind that both would benefit from a mix of two fabrics so bizarrely with fabric in hand I went to my local fabric shop, Fabrics for All in Leeds. This is my second blog for them, the first being my Free Range Slacks. Armed with my fabric and patterns I went to chat with Sarah about my thoughts on mixing fabrics.
My first choice is the Saltbox Top by Blueprints for Sewing.
The second is the Style Arc Ethel, this top is very simple with grown on sleeves and all the seams are top stitched. My idea was a centre panel with plain sides.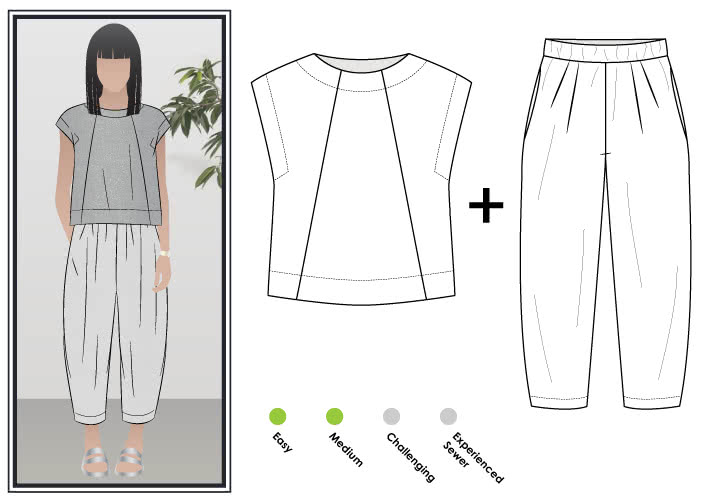 Sarah checked the pattern descriptions for suitable fabrics and then showed me all the different types that would be suitable for this top. She had a gorgeous blue linen in stock but being grey and quite pale complexion it was not for me. Shame as it is a really lovely blue. Once she pulled out this coral/red colour that was it. No point looking further. This was perfect.
I made the Ethel first, easiest I thought, simple lines, no sleeves, top stitching which I love. No!!!! Really big facings that I had interfaced. This seemed to change the size a little and nothing wanted to fit. I remembered having a conversation with @lovelucie she once told a group of us instead of clipping and notching, just use pinking shears. Perfect, as this also stops fabrics fraying and on interfaced fabric it just relaxes the edge and then things line up better.
I really enjoyed using different feet for this project. Standard, edge and walking foot.
The sides are sewn on and top stitched, then the neck, sleeves and bottom edges have facings. The walking foot definitely helped keep things flat but I really struggled keeping the deep hem facing flat. In the end I ironed the bottom flat, pressed the turn up and attached wonder tape to the inside edge. This is great for holding zips in place as it can be sewn over and washes away. My hem is smooth now and flat as it should be.
 When you buy these patterns by pdf you choose a size range.
I bought the one with UK 14 and I am pleased with the relaxed fit. It should be great with shorts when the weather improves!
Pattern cost me £6.23 via Etsy and there was 25% off offer when I bought it.
I have seen one made in white linen that looks amazing. I will definitely make this again.
Next I made the Saltbox top in the sleeveless option. Its just a gentle jigsaw puzzle. The lesson here is to sew a seam and press it open or flat. One seam at a time. Something is off as I don't have a point at the front and one side seam didn't quite match. When you make the sleeveless version the neck and arms are bias bound. I had some double fold in a suitable pink but the pattern calls for single fold. I tried to be clever and just use what I had and totally spoiled the neck. After sleeping on it I realised I could unpick, clip off half the binding and re sew down. That's totally my lack of experience. But it worked ok and now its lighter it's much better.
Yes that is basted down, yes that's the real basting thread and yes it really helped. Look.
How neat is that. I love it!!
Pattern was £11 and it comes with sleeves too.
So very useful as you can use up small amounts of precious fabrics.
This is a picture from the Blueprints site showing the odd shaped pieces needed.
The benefit of going to a local shop meant I could take all my pattern pieces and Sarah could place them on the fabric. This means no waste. I have two great tops by using fabric I already had perfectly matched. I couldn't have made this choice online. Sarah helped me choose the right complementary fabric and only cut the amount needed. This fabric was supplied to me free of charge, the patterns are my own and I chose what I wanted to make.
Thank you Fabrics for All and Congratulations on being Fabric Shop of the Month in Love Sewing.
Happy Sewing K xXx