Hi Guys, how are we all. I am very up and down and don't think I am alone there. The Yorkshire weather is rubbish, after the week heatwave in June we have had some rain EVERY BLOODY DAY!!!! But all family is fine so for that I am grateful and I have sewing time.
Sarah at Fabrics for All offered me my choice of fabric last month and as I had my wedding anniversary and a wedding reception to go to both on the 4th July I decided to make myself a dress and chose this fabric.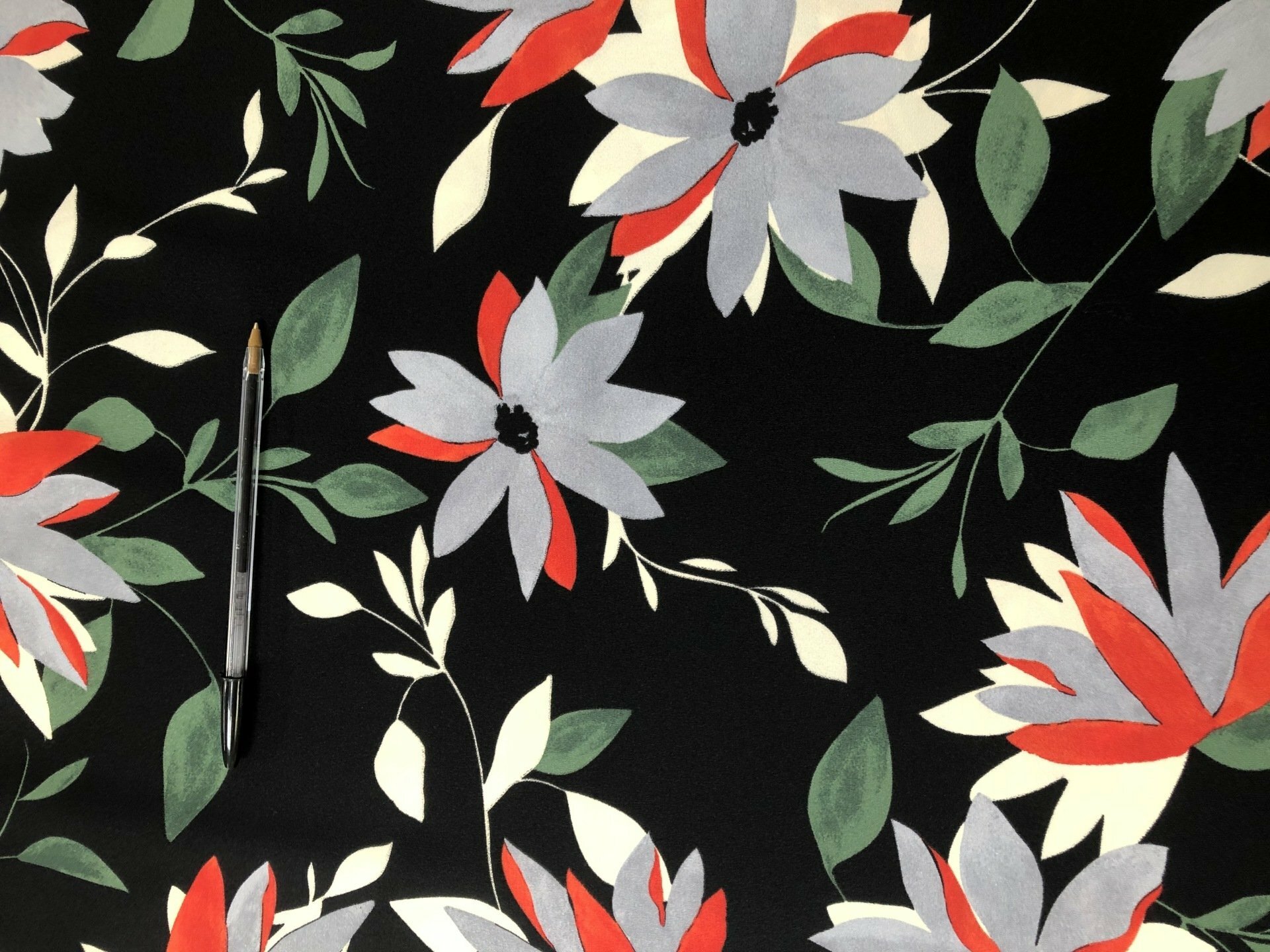 Lovely, isn't it!
Lucky me I won a PDF pattern of my choice from A Common Stitch competition I had been entered into by @ukpoppyberry and I chose the Fawn dress. This is a beautiful, very simple construction dress with really neat bias binding edges (I love finishing hems with bias too). So I decided to do a toile. I don't usually and I have learned that you need to use a similar fabric to toile as your finished dress will be. I had a light weight piece of curtain fabric and used that. Big mistake!! If it looks like a curtain, hangs like a curtain and feels like a curtain. Get the picture.
Rubbish result but the dress pattern is lovely and I am going to make another one in a cotton lawn or seersucker.
So, second toile. After having much success with the Tilly Buttons Make it Simple book I thought I would try the Suki dress with a lovely microfibre duvet cover I found in Lidl.
Guess what? If it looks like a duvet, hangs like a duvet and you feel like you are wearing a duvet. Get the picture?
There are a lot of lovely Suki dresses on IG but mine will not be joining them. One thing I did learn was it slides backwards on me like the Stevie does so looks like I need to learn a forward shoulder adjustment then I will make again in a nicer, lighter fabric.
So, can you tell I was getting fed up of failures by now. My anniversary is just another day (with a nice bottle of red) and the wedding reception was changed to the 11th then changed to wedding 11th and reception next year. So I didn't need a dress, yippee back to being practical.
When Sarah gifts me fabric her only rule is that I make something I like and will wear. My most worn items this year after tee shirts are definitely my Safiya trousers. I have two pairs already. One in cobra corsage and my last ones in Sevenberry linen mix so a third pair in crepe was a no brainer and I am thrilled with the results. This fabric takes a press beautifully and hardly creases. It's crepe on the front side and smooth and silky on the back so no sticking to my legs when I walk – and it has pockets.
So, many lessons learned and nothing will be wasted don't worry.
Use a similar fabric to toile as the end result will be.
Stop buying duvet covers unless for the bed.
Learn how to do forward shoulder adjustments.
And look, this is how long I keep my scraps of all sizes.
Thank you Sarah for the fabric, I love my new trousers.
Fabric was gifted but was my choice along with the pattern I made.
Happy sewing K xXx